The Twitter smear merchants have been working overtime since The New Yorker interview with Peter Singer, but this exchange is really something: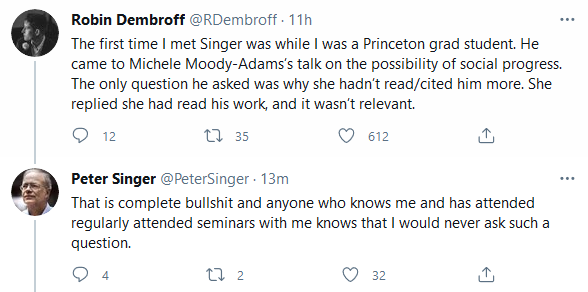 The anecdote sounds aprocryphal to me, inconsistent with everything I've heard about Peter Singer.  (This is a more likely explanation.)  I have no shortage of harsh criticisms of Peter Singer's work (for example), but what is wrong with people that they stoop to repeating alleged anecdotes to impugn his character?  (Even if it were true, what is the point of repeating it?)   It really is one of the sicker aspects of Twitter.
UPDATE:  A philosopher elsewhere writes:
The Dembroff story about Peter Singer strikes me as very likely to reflect a misinterpretation.  In my times visiting at Princeton, I've been in a lot of seminars with Peter, and I never saw him playing anything like the "I'm extremely famous" card. On the contrary, he was unfailingly self-effacing, wryly funny, constructive, and very good at philosophy; in short, a model citizen.  I'm sure lots of people who have been around the Values Center can confirm this.